This site contains affiliate links to products. I may receive a commission for purchases made through these links at no extra cost to you. All thoughts are genuine and my own.
Everytime someone asks me what my favorite season is, I always answer fall. I have never met a pumpkin patch I didn't like. But, I am starting to realize that I really love summer. I love when things green up and signs of red, white and blue start popping up in the stores. Changing over my house for summer puts me in a cheery mood. Here are some great tips on how to decorate for summer in your modern farmhouse.
Modern Farmhouse decor is rooted in neutrals and natural colors. Don't be afraid to bring some pops of color into your home for summer. 
You can still stick to the "natural theme" by bringing in bright colors from nature. Think summer fruit and wildflowers. I really like to bring color in by accessorizing with colorful florals and even berries. 
Make a list of things that remind you of summer and you will quickly see where you can add elements of summer into your home… 
4th of July
Bumble Bees and Honey
Lemons and Lemonade
Watermelon
Sunflowers
The Fourth of July is one of my favorite holidays so right around Memorial Day, I like to bring in some Navy's and even some pops of red here and there. I just added a white pitcher to my table filled with blue berry sprigs from Hobby Lobby and love it!
Flowers, Flowers and More Flowers
Adding flowers to your decor screams summer! Whether it's real or faux flowers, you can really brighten up your home. 
For real and faux flowers, choose colors that compliment your current decor but also scream summer. My favorites are white hydrangeas, baby's breath, and sunflowers. I also love to cut lilacs from my bushes and put them in a vase. They smell so good too!
Peonies, roses and lavender are all wonderful summer flowers that go well in decor. 
BLOOMSY BOX is my favorite for keeping fresh flowers in your home!
When you think of fall what do you think of? You probably thought of something that involves a pumpkin. When we see pumpkins we automatically think of fall right? Summer is no different.
When I see lemons and watermelon I think of hot summer days! I love using lemons in my summer decor. In fact, last summer I used lemons as the theme of my sister's summer bridal shower and it was absolutely amazing. Check it out here. 
I mentioned above, how I used berry sprigs in a pitcher in my dinning room. Think about fruits that are colorful but that are in peak season in the summer to use in your decor.  
Baskets of lemons, berry sprigs etc. make for perfect accessories to your existing decor. 
You can see this awesome lemon vine I got from Kirkland's last summer for my sister's shower. I just love how it looks under the TV. Garland is not just for Christmas!
Check out this beautiful garland from Amazon that has lemons and blueberries! It would look beautiful on a mantle for summer.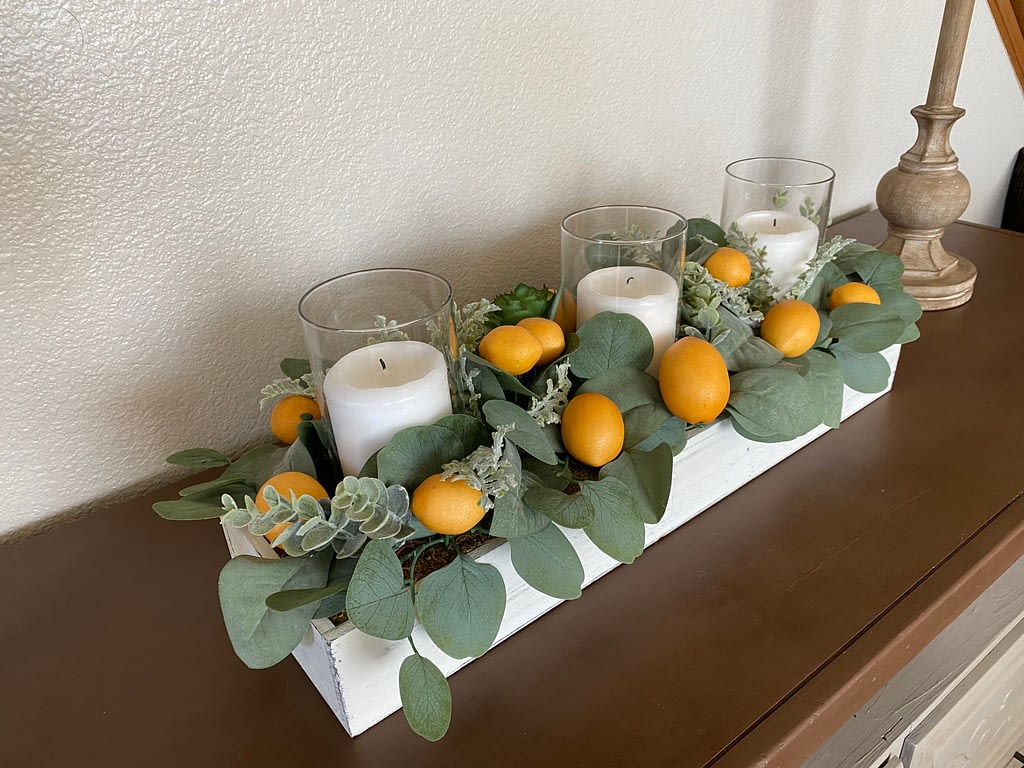 Change Out Little Things Like Pillows and Rugs
When you are decorating seasonally you don't want to overhaul your entire house. Think of items that you can easily change out. 
I love to change the pillows on my couch with each season. The problem with changing out pillows is that throw pillows are so darn expensive. I absolutely love these pillow cases that make changing out throw pillows so easy. Look how cute! They come in so many different styles too. 
And look! Some with lemons! I might be ordering these, I am just way into lemons right now. 
Another item that is so easy to change out for summer, yet so visible is hand towels. Whether it's in your bathroom or kitchen, changing out your towels to a summery color or theme is a great way to change the feel of your home. 
At the end of the day don't forget to be you! Bring in your own style and things that make you happy. Too often we try to fit into a style that isn't us or we worry too much about the right "look". 
Be you! There's no right or wrong way to decorate as long as it makes you feel at home. Follow some people on Instagram that inspire you. That's how I've found my style! 
Happy decorating and happy simplifying. I hope you find some great finds to decorate your modern farmhouse home for summer.