This site contains affiliate links to products. I may receive a commission for purchases made through these links at no extra cost to you. All thoughts are genuine and my own.
If you are anything like me, you put yourself and your needs behind everyone else. No matter how many times I say "I am going to take better care of myself" it never seems to make the difference. I always have good intentions but I have a hard time following through when it comes to myself. That's why doing a Self Care Challenge- 30 minutes for 30 days is a great way to break the cycle of ignoring our needs!
Women in particular, especially moms struggle with taking care of themselves. 
I know that while I am great at making sure that my kids are eating healthy and staying hydrated, I am terrible at following the same guidelines for myself. I go to bed some nights feeling awful in my gut, then I remember, "oh yea, I hardly drank water today and had a handful of potato chips for lunch… no wonder I feel terrible".
When you eat healthy, get rest, drink water and mentally fuel your body, you naturally feel better. It is that simple. 
I say "it's that simple" but why does it seem so hard? I hear you, it is a lot harder to put ourselves first. That's why this 30 day challenge is perfect!
We can carve 30 minutes out of each day to take care of ourselves can't we? Some days will be harder but if we are intentional about making ourselves a priority then, we are bound to be successful. 
It may take setting an alarm to get up 30 minutes before the kids wake up to make sure that we have time to ourselves but it will be so worth it in the end.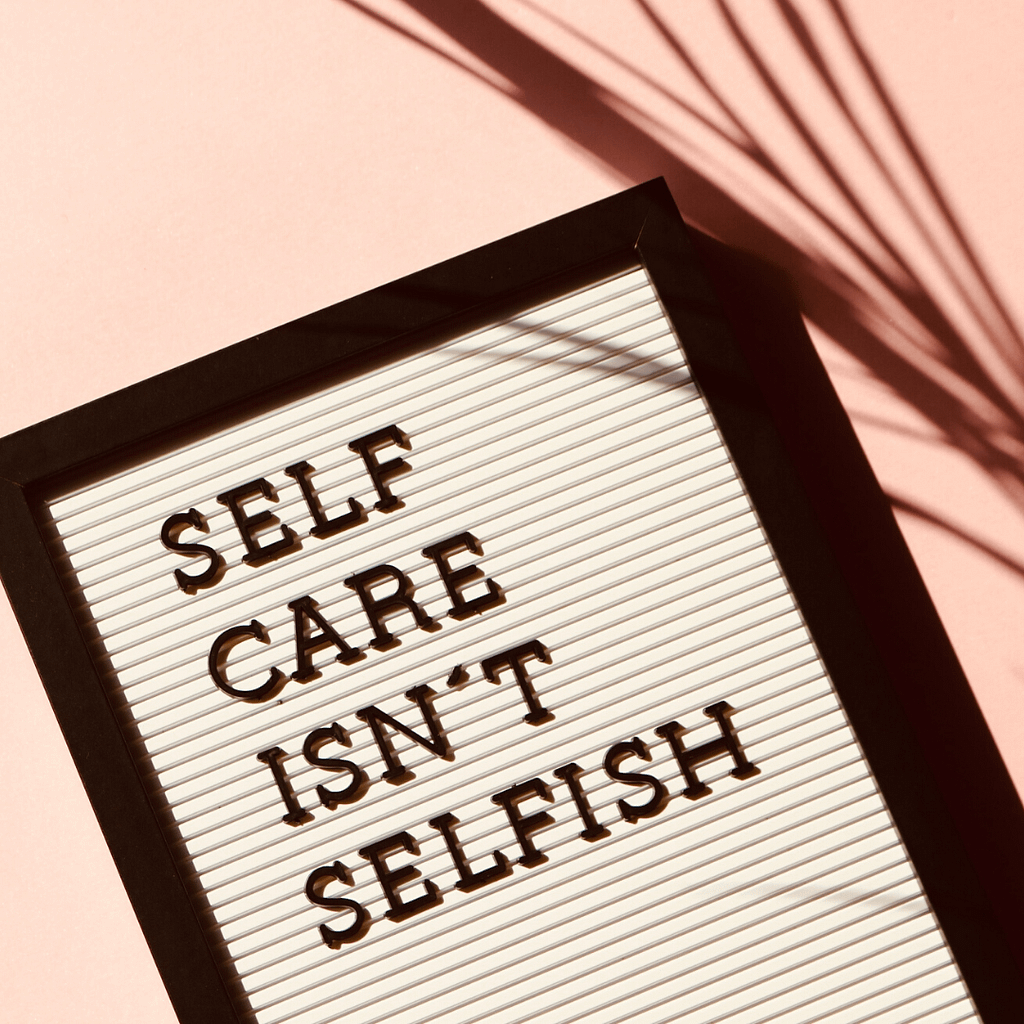 I have a Facebook group dedicated to moms supporting other moms. We are starting this 30 day challenge together. We'd love to have you join the group for other fun challenges and just great, non judgmental, mom support! You can join here. 
For 30 days in a row, do something that takes care of YOURSELF for 30 minutes per day. 
Yep, that's it. 30 minutes dedicated to ONLY YOURSELF. Try not to count time with family or your spouse or significant other as your self care routine. 
I get it. A date night, might be something that you need in your life and by all means, go on your date! But, I urge you not to count this as your self care act for the day. 
Women are notorious for putting others before their own needs, and it is a slippery slope when we start to say "I really needed that date too, that counts as self care", but the problem is, you didn't do something that was ONLY for yourself. 
With self care activities, you want to listen to yourself. What is it that you need in that moment? What do YOU need, not what can you do for someone else? 
What Counts as "Self Care"
First of all, we need to define self care. It is really as simple as "taking care of one self". Here's the kicker though… self care is really about doing things that take care of your body AND mind. 
I say this because if we see self care as anything that makes us happy, then we fall into a dangerous loophole. What do I mean by loophole?
Well, look at it this way. If we define self are as anything that makes us feel good or happy then we would consider indulging in a huge slice of chocolate cake as self care. Now, don't get me wrong. After a bad day we might just need that cake as a part of our mental health. We might just need to let go and watch a show and eat our cake. There's nothing wrong with that.
While I am not saying that this is a bad thing, in fact, I think it's wonderful and by all means, eat the cake. I am saying that we don't get to count "eating chocolate cake" as self care. While it might be good for our mental health, it's not great for our physical health. So when you are focusing on self care, make sure to focus on things that are good for both the mind and the body. 
A good rule of thumb to remember when you are choosing your "self care" focus for the day, ask yourself, "If I made this activity a part of my everyday routine, would I be improving my wellbeing?" If you can answer yes to that question then, you know it's a good activity. 
Back to the cake analogy. While you might need cake that day for your mental health (go for it! no judgement here), if you implemented that activity into your everyday life it would no longer be good for you. In fact, it would be a very unhealthy addition to your life both physically and mentally. That's how you know if it is truly "self care".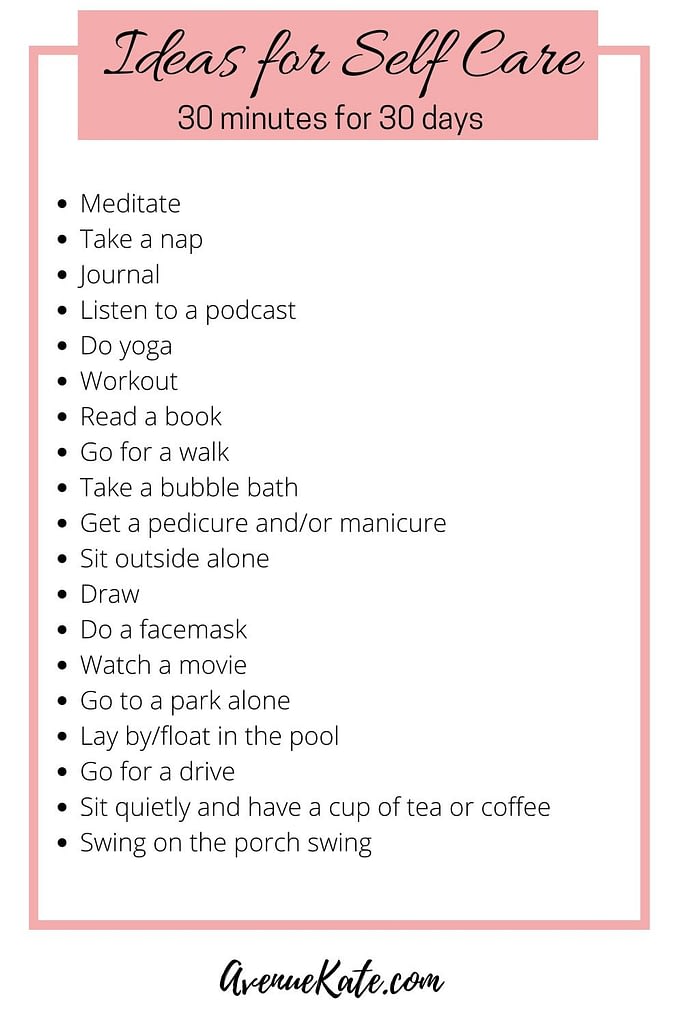 As part of your 30 day challenge, if you don't already, start drinking a ton of water. 
Ladies! Water is the best thing we can do for our mind, skin, gut, hair, nails… you name it!
I love water but am terrible at getting enough water. So, as part of the challenge, make yourself drink AT LEAST 64 ounces of water each day. Track it. Stick to it.  Do it everyday. 
Tips for drinking more water:
Add fruit to your water- blueberries, cucumber and lemon are my favorite.
Add a straw- there's something about easy access that makes water drinking more successful.
Get a smart waterbottle- I have this one and it's great. It has a bluetooth speaker for music and lights up and dings when you haven't had enough water to drink. How cool is that? And it's not expensive! Bonus!
Keep Track of Your Success
Are you ready? Are you in? Are you going to start putting yourself first?
Make sure to track your progress over the course of the 30 days. You don't have to start on the first of the month. Pick a day, I suggest tomorrow, and start your 30 day challenge of putting yourself first. 
You can grab a free tracking sheet below. I added a spot to track my water intake as well as something I am grateful for each day. It's a good reminder to remember the good. 
Once you get started I would love to hear how things are going! Drop a comment below to check in. You can also join Avenue Kate's mom Facebook group here to check in. 
Don't forget to follow Avenue Kate on Instagram for other great ideas on simplifying life! 
Good luck on your Self Care Challenge- 30 minutes for 30 days! You've got this!